LOCAL AUTHORITY BUILDING & MAINTENANCE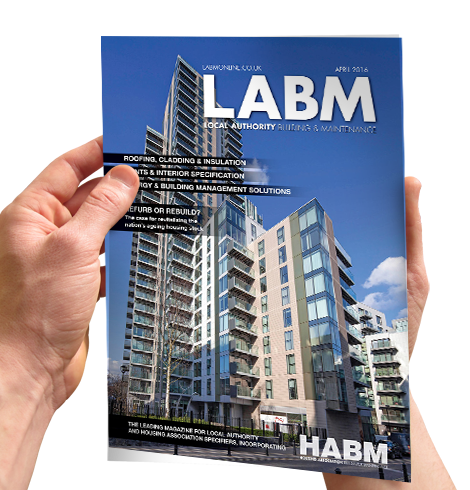 Since its launch in 1985, LABM has been providing an essential information resource for its target audience of council specifiers, housing and maintenance managers, surveyors, contractors, architects and education and health authorities. In 2016, the magazine expanded its reach to include housing associations.
The publication now offers in-depth coverage of the construction and maintenance of the entire social housing and public buildings sector. LABM's readership is responsible for a diverse stock portfolio from housing, schools, leisure and community facilities, to healthcare and public buildings.
As the leading publication in the sector, the magazine delivers focused editorial covering industry issues, building regulation and legislative updates, and technical problem solving articles, as well as comment from key organisations operating across the public sector supply chain. LABM also features council, ALMO and housing association case studies, in addition to details of all the latest construction products, materials and services.
The magazine is published 10 times a year and benefits from an unrivalled ABC-audited circulation — we only target those working on local authority and housing association building and refurbishment projects. Continuous investment into the circulation ensures LABM goes to the right people. As a result, we have the largest available number of individually requested building-related readers in the sector, which means LABM offers a better penetration into this market than any other magazine.
LABM is also supported by a website, www.labmonline.co.uk . The website provides an outlet for up-to-the-minute industry news, views, events and polls, as well as featuring exclusive article content. A regular newsletter complements the online content.
To see the magazine's latest ABC Audited Circulation info click here
Claire Clutten has worked at Hamerville Media Group since 2001 and has been editor of LABM since 2007. Prior to that she edited HABM for three and a half years, helping the magazine to grow from eight to 11 issues a year. Since working on LABM Claire has played an instrumental role in creating two new supplements for the magazine – one dedicated to education buildings and the other to health sector buildings. Claire has a BA (Hons) Degree in History from Teesside University and a Postgraduate Diploma in Journalism.